Invite your friends!

For 16 years, the NYC Spinal Mardi Gras Fundraiser has been THE place to be on Fat Tuesday. Our crazy dance party is an opportunity to have fun with family and friends while you help support the NYC Spinal Grant Program.
NYC Spinal grants provide funding for adaptive equipment and community programs that help people with spinal cord injuries and paralysis maximize their independence and quality of life.
$40 Admission includes:
Buffet Dinner / Live Entertainment / Raffles
Masquerade Party Masks Encouraged.
Get your tickets today!
Join us for the dance party of the year and DO GOOD while you have FUN. Can't attend or want to do more to help make #MG2020 a success? Donate a ticket for one our members to attend.
2020 Humanitarian of the Year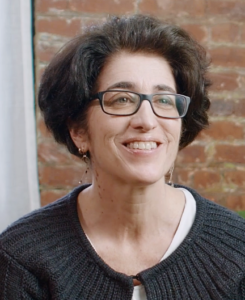 Angela Riccobono, Ph.D.
Our Guest of Honor and recipient of the 2020 Peter Zarba Humanitarian Award is Angela Riccobono, Ph.D., Clinical Psychologist at Mount Sinai Hospital's SCI Model System Rehabilitation Center. She is also the co-creator of www.sexualitySCI.org a respected resource for people with disabilities and healthcare professionals worldwide.
A Lifetime Dedicated to Service
Dr. Riccobono has led the highly effective SCI Transitions Support Group for Mount Sinai's Department of Rehabilitation since its inception over 20 years ago. Her compassion and gentle encouragement have made her a beloved member of our community and given many our our members the emotional tools they need to move forward after paralysis.
We are honored to recognize Dr. Riccobono for her dedication to helping patients and their families learn how to live their best lives after spinal cord injury and paralysis.
Help honor Angela by sharing a short testimonial.
Sponsorship Opportunities
Find out how you can help support the NYC Spinal and have FUN while you do GOOD! Value packed packages are available for every budget. Don't see something that fits your brand? Give us a call at 866-692-7242 and let us customize something just for you.
A Package for Every Budget
Learn more about why a partnership with NYC Spinal makes sense for your business.