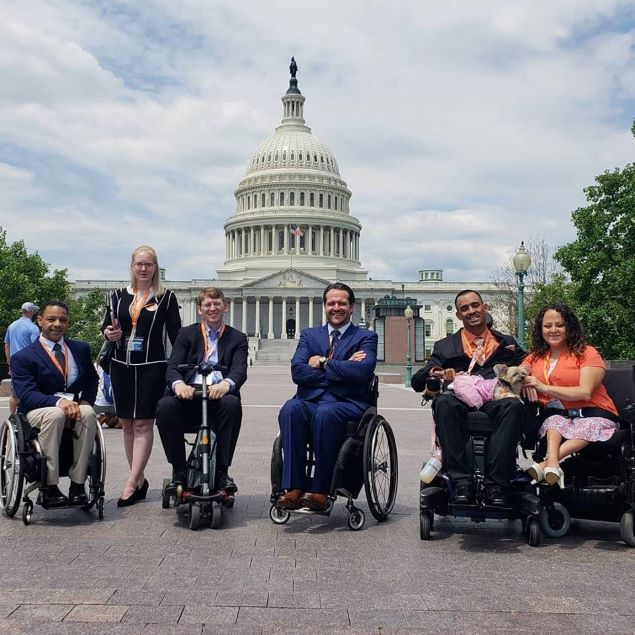 The Advocacy Task Force is our local chapter group dedicated to fighting for disability rights. As part of United Spinal Association's Grassroots Advocacy Network, we work to impact change and ensure that people with SCI/D and other disabilities receive the services they need to fully participate in the community.
Why advocate?
Building an inclusive world makes life better for everyone. Passionate advocates can help create a world where accessibility and inclusion is part of the fabric of society and we pledge to work tirelessly to help make that happen.
Advocacy Issues
Preserve & Enhance Disability Rights
Make All Transportation Accessible
Improve Community Support & Services
Improve Public Accessibility
To Be Able To Select Where & How We Receive Care & Services
Harness Our Combined Power To Facilitate Change For The Better
Secure & Retain Veterans Benefits
Improve Health Care For Veterans
Preserve The Rights Guaranteed By The ADA
Secure Appropriate Medical Supplies & Pharmaceuticals
Obtain Appropriate Wheelchairs & Assistive Technologies
Roll on Capitol Hill
NYC Spinal Advocacy Task Force members are leaders in United Spinal's Annual Roll on Capitol Hill (ROCH). Each year we join with advocates from across the county to visit with and educate Congressional leaders about the policy issues that impact the health, independence and quality of life of individuals living with spinal cord injuries and disorders, including disabled veterans.
Grassroots Advocacy Network
Our Task Force brings the lessons learned at ROCH home. Our goal is to reinforce ROCH efforts at the local level and give our members the tools they need to engage their own government representatives in a meaningful dialog.
Each of us have become experts on what is needed to improve the quality of our lives and it is by sharing our stories as individuals living with disability, that we can help policy makers understand and recognize issues that need their support. We invite you to join us.